Understanding the Cost of Medical Errors
Medical errors or complications of care result in substantial direct and indirect costs not only to the individual patient affected, but also to our nation as a whole. 1 As you will see, costs resulting from medical error actually amount to revenue for our healthcare system. This outrageous payment structure is one of the primary barriers to safety reform.
Not all medical errors result in physical harm or injury (see, All About Medical Errors). Victims of medical error, however, frequently experience additional pain and suffering and often incur additional financial costs: the price to repeat the procedure and/or additional medical treatment.
All purchasers and patients pay for medical errors when insurance costs and co-payments are inflated by services that would not have been necessary had proper care been provided. 2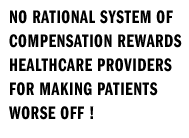 Michael L. Millenson, author of the book, Demanding Medical Excellence, puts it this way: "If somebody makes a mistake, who gets hurt? It's not the doctor. Who pays? It's not the hospital. Nobody's doing this on purpose, but they're not losing money on it, either." 3
Medical errors also result in costs which are both direct and indirect and are usually in the form of lost income, lost household production, disability and medical costs. The total national cost of preventable medical errors is currently estimated to be between $17 and $29 billion. Healthcare costs represent over one half of this figure. 4 Therefore, preventable medical errors generates an additional $8.5 to $14.5 billion in revenue every year!
The following chart shows some of the most common types of medical error which occur in a hospital setting, together with their respective costs:
| | | |
| --- | --- | --- |
| Type of Preventable Medical Error | Additional Days | Added Costs |

Most experts agree that there is a total lack of incentive to improve the quality of our healthcare system. Our providers are actually paid more when quality is worse, such as when complications occur. 10
When Duke University Hospital created an integrated program to treat congestive heart failure, consumers were healthier - but the hospital lost money because of the resulting decline in admissions and the absence of complications. 11
Additionally, ten hospitals in Utah had the same experience after implementing practice guidelines for pneumonia treatment. Providing quality healthcare made the Utah providers financially worse off! 12 It's obvious that providers are less likely to improve quality of care if they suffer financially when doing so.
Such payment arrangements are economically perverse. No rational system of compensation rewards healthcare providers for making patients worse off! 13
Last update on: 10/02/06
---