LACK OF DISCLOSURE
Medical Error and Resulting Injury
Even though medical mistakes are common in America, it is anything but common for physicians and hospitals to inform patients when those mistakes occur1. Total honesty and timely truth telling to patients should be an absolute rule, whether or not it is profitable to do so2. Honesty and integrity should be hallmarks of the health professions but, sadly, they are not.
Doctors and hospitals are not required by law to tell a patient when a mistake has been made, or why. When things go wrong, the medical profession clamps down on information, making it virtually impossible for patients or their families to find out whether the outcome was the result of a medical mistake3.
The importance of open, timely and honest communication about medical error and injury with patients and their families cannot be overstated. The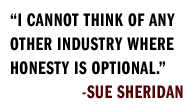 public trusts healthcare providers to put the interests of patients first and foremost. When they put their own professional interests over the well-being of patients it destroys that trust. Deceiving and avoiding patients when they suffer harm from adverse events clearly fails to put the interest of the patient first.
"Patients and families don't expect perfection from doctors, but they do expect honesty, especially when things go wrong," said Doug Wojcieszak, spokesman for Victim and Families United. "Unfortunately, too often doctors and hospitals deny, defend and clam up when mistakes happen, and the only way families can get answers is to file a lawsuit."4
Indeed, surveys of medical malpractice claimants show that one of the major reasons patients proceed to litigation is the perception that their medical providers are lying or are not fully disclosing the truth of what actually occurred5. One experienced malpractice attorney explained it this way:
In over 25 years of representing both physicians and patients, it became apparent that a large percentage of patient dissatisfaction was generated by physician attitude and denial rather than the negligence itself. In fact, my experience has been that close to half of my malpractice cases could have been avoided through disclosure or apology but instead were relegated to litigation. What the majority of patients really wanted was simply an honest explanation of what happened, and if appropriate, an apology. Unfortunately, when they were not only offered neither but were rejected as well, they felt doubly wronged and then sought legal counsel6.
To Dale Ann Micalizzi, whose 11-year-old son Justin died in 2001 after his heart stopped during surgery for an infected ankle, there is no question that patients and their families are owed an explaination. Ms. Micalizzi says she tried unsuccessfully for two years to determine what happened to her son--but got no answers. "I had to sue to get answers," says Ms. Micalizzi. "You don't take someone's child into surgery and not be accountable when they die." 7
"I cannot think of any other industry where honesty is optional."8 We tend to agree.
From the hospitals and physicians perspective, fear of litigation seems to be the major barrier to implementation of, and adherence to, an open and honest disclosure policy. In a telling study, physicians were given a hypothetical case in which a patient dies because of a drug mistakenly administered by a physician. More than one third of those surveyed indicated that they would provide the family with incomplete or misleading information about what transpired9. In another study of resident physicians, it was found that only 50% informed their attending physician of errors and less than 25% informed the patient or the patient's family. 10

Most of the studies in this area, however, show that fear of litigation is more perception than reality. Indeed, the Harvard Medical Practice Study found that only 2% of negligent adverse events ever lead to actual malpractice claims11. Other factors also inhibit full physician disclosure, such as loss of self esteem and being seen as a failure in the eyes of colleagues. 12
Most hospitals now have policies that encourage the reporting of "medical incidents" as part of quality-assurance programs, but typically, the policies do not address the question of whether or what to tell patients.13 Since July 2001, the Joint Commission on Accreditation of Healthcare Organizations (JCAHO) has required that hospitals disclose mistakes that result in patient injury.14 Unfortunately, it is still avoided far more often than done. 15
In a 2004 survey among 210 hospitals by the Premier hospital alliance's Safety Institute, nearly half of the surveyed hospitals failed to disclose serious medical errors to its patients. Additionally, more than 25% of the hospitals even failed to have a disclosure policy that is now required, ostensibly, by JCAHO. 16
Unfortunately, there still remains within American healthcare "a persistent refusal to confront providers' responsibility for severe quality problems. There is a silence of deed--failing to take corrective actions--and of word--failing to discuss openly the true consequences of that inertia. These silences distort public policy, delay change, and, by leading (albeit inadvertently) to thousands of patient deaths, undermine professionalism."17
In the final analysis, patients are at grave risk of harm due to endemic secrecy, deference to authority, defensiveness, and protectionism. Despite much rhetoric about the primacy of patients'interests, it seems that when it matters most, those interests are too often subordinated to the needs and interests of physicians and healthcare organizations. 18
The White Wall of Silence
Secrecy is built into our healthcare system at many different levels.
Lack of disclosure or coverup manifests itself in the "white wall of silence" that people come up against at different points along their journey in the healthcare system: when trying to find information to help them choose a good doctor, when trying to determine the quality of care delivered at a particular hospital or even when attempting to find out the cost of a procedure in advance, just to name a few. The culture of secrecy in the medical profession has deep roots and, unfortunately, is very much alive today.
An illustrative example was the inquiry that was conducted in 2000 to investigate excessive mortality rates among children under one year of age who had heart operations at a certain teaching hospital. As Rosemary Gibson, author of The Wall of Silence, tells it:
During the inquiry, reference was made to the 'club culture' that prevailed in which a physician's progress up the hierarchy depended not on performance but on whether there was a 'fit' within the club. Those who challenged the status quo and questioned whether the clinical outcomes for patients were as good as they should be were viewed as disloyal. Rather than embrace a critical assessment of performance and patient care, the club exacted a high price for this disloyalty:ostracism from the club. This club culture was the mortar in the wall of silence that, in this case, led to surgeries being performed whose resulting mortality rates were double that of mortality rates of other facilities---in sum, unnecessary deaths of children and devastated parents. 19
"Meanwhile," Ms. Gibson continues:
conscientious physicians tell stories, privately, of their peers who are providing poor care to patients or practicing unethically; if these physicians speak up, they are accused of being arrogant and threatened with retribution. If they try to bring quality concerns up the line, they are accused of not being a team player. Their jobs are at risk. As one healthcare provider told us: 'I have crossed that line, the white wall of silence, that puts me in the unenviable position of being subject to scrutiny and dismissal at any time. Addressing the issues openly as I have makes people nervous, and they worry that I may be a liability, a person who is not a 'team player' or, in other words, one who is not willing to cover up for the company team at any cost. 20
"One of the primary roles of a lawsuit is disclosure of information to have a deterrent effect that forces hospitals to clean up their acts and become safer," said Joanne Doroshow, executive director of the Center for Justice and Democracy, a New York-based consumer-rights group.
"The more that's put into darkness," she said, "the more liability there is for unsafe conditions." 21
Public access to information on specific doctors or specific institutions.
Patients and consumers have access to little if any information that they can use to make educated choices about their doctors (see, How Good is Your Doctor) or their healthcare institutions. Public disclosure of performance information regarding quality, effectiveness, and safety would yield enormous public and institutional benefits, yet the medical community has consistantly fought any attempt at objective performance measurement or comparative information on quality.

Last update on: 10/25/04
---