Lack of Accountability
"Unsafe care is one of the prices we pay for not having an organized system of care with clear lines of accountability." 1 Virtually all experts now agree that total reorganization and reform are urgently needed to fix what is now a disjointed, inefficient and unsafe system of healthcare delivery.
Accountability For Patient Protection, Safety And Oversight
Most Americans today believe that federal or state health regulations exist which assure patient safety. The public generally assumes that licensing and accreditation confer a "Good Housekeeping Seal of Approval" on its healthcare practitioners and institutions. 2 Moreover, most of us have been brought up to implicitly trust that our doctors will always do the right thing in the right way at the right time.
Unfortunately, nothing could be further from the truth!
State licensing and accreditation processes have focused very limited attention on patient safety, and even their minimal efforts have confronted strong resistance from healthcare providers and organizations.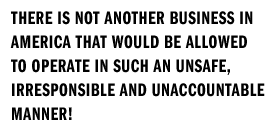 Today, if a hospital or other healthcare institution is accredited by the Joint Commission on Accreditation of Healthcare Organizations (JCAHO), it will be deemed to have satisfied most state quality and federal safety standards so that no further governmental inspection or monitoring occurs.
The JCAHO is a private organization which was founded and currently operated by physicians and hospitals executives, the very profession and industry it ostensibly oversees. Historically, this type of self regulation in business has been an unmitigated disaster.
As a Washington Post article put it, "Enron and its successor scandals have shown that one should be skeptical of highly qualified professionals—in those cases, accountants—who promise to regulate themselves. This skepticism should now be applied to doctors." 3
Numerous experts believe that JCAHO accreditation fails to do an adequate job in protecting the public and providing necessary oversight. 4 Even JCAHO acknowledges, "Physicians do not associate accreditation with quality and patient safety." 5 Many now agree 6 with Public Citizen, a health research group and consumer advocate, when it argues that:
[b]ecause of problems in the process by which it conducts surveys and sanctions hospitals, and structural problems inherent in the fact that the organization is composed of members of the industry it is supposed to regulate, the JCAHO does not do an adequate job in protecting the public and providing necessary oversight. It is time to remove the deemed status of JCAHO accreditation and return the task of hospital inspections to an independent governmental body answerable to the public. 7
Accountability For Performance Standards And Quality Measurement
American physicians have never been held accountable for their safety performance or for the quality of their work. As one patient safety expert stated, "[t]here remains within health care a persistent refusal to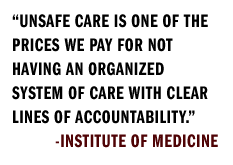 confront providers' responsibility for severe quality problems. There is a silence of deed--failing to take corrective actions-and of word--failing to discuss openly the true consequences of that inertia. These silences distort public policy, delay change, and, by leading (albeit inadvertently) to thousands of patient deaths, undermine the moral foundations of medical professionalism." 8
It is time to establish and thereafter enforce objective quality measurement, safety standards and performance guidelines. Healthcare institutions also should be held accountable to performance standards regarding continuous improvement in safety and quality.
Dr. Lucian Leape, one of our nations leading patient safety professionals, describes the current state of the American healthcare system: "There is no accountability. A fundamental principle has to be the development and then the enforcement of procedures and standards. We can't make real progress without them. When a doctor doesn't follow them, something has to happen. Today, nothing does, and you have a vicious cycle in which people have no real incentive to follow the rules because they know there are no consequences if they don't." 9
Accountability For Harmful Medical Error
Currently, our healthcare providers are simply not held accountable for preventable medical errors that result in death or serious injury. (see, Lack of Disclosure). Although a number of states currently mandate external reporting of serious adverse events—usually to the state health department—in most cases the information collected is intended to be protected by law from potential claimants. Virtually all state programs fail to provide public access to the information and most require subpoena or court order for release of information.
In 1999, the Institute of Medicine (IOM) broke the public silence about medical errors in its landmark report, To Err is Human: Building a Safer Health System . It called for a nationwide mandatory reporting system for serious preventable adverse events based on the public's right to know about and be protected from hazards, and from the basic principle of fairness. 10
The IOM's recommendations regarding mandatory reporting "are designed to generate standardized information that can be used to understand and track known hazards and to take preventive action. 11 As the report states: "The public has the right to expect health care organizations to respond to evidence of safety hazards by taking whatever steps are necessary to make it difficult or impossible for a similar event to occur in the future. The public also has a right to be informed about unsafe conditions." 12
In addition, the mandatory reporting was intended to provide an avenue for harmed patients to gain access to information regarding the circumstances surrounding an injury and use it to seek justice for the negligent or reckless care. The IOM intended meaningful public access to information about serious harms. 13 The report states that "requests by providers for confidentiality and protection from liability seem inappropriate in this context." 14
It has now been close to five years since the IOM published its landmark report, and our nation has still failed to follow its recommendations. "The IOM's focus on 'system' improvement ignores the repeated refusal by physicians and hospital leaders to adopt systems." 15
Therefore, we are left with a healthcare industry that is unorganized, decentralized and fragmented. Its ability to protect the public from medical errors and poor quality healthcare is uncoordinated and ineffective. Moreover, consumers still have not been properly educated about the type of medical errors that may occur in our healthcare system, their potential severity or rate of recurrence.

"There is endemic secrecy, deference to authority, defensiveness, and protectionism. Despite much rhetoric about the primacy of patients' interests, it seems that when it matters most, those interests are too often subordinated to the needs and interests of health care organizations and professionals." 16
There is not another business in America that would be allowed to operate in such an unsafe, irresponsible and unaccountable manner!
Last update on: 10/3/06
---