All About Medical Errors
According to the Institute of Medicine's landmark 1999 report, To Err Is Human Building a Safer Health System, between 44,000 and 98,000 hospitalized Americans are killed each year and one million more individuals are injured due to preventable medical errors, which result in annual costs of $17 to $29 billion1. (See, Understanding the costs of medical errors ).
The Institute of Medicine's (IOM) report found that even using their lower estimate, more people die in U.S. hospitals each year from medical errors than from motor vehicle accidents, breast cancer or AIDS 2. While some physicians initially attacked the mortality number as merely a loosely supported estimate, many others contended that because of widespread undercounting, the number was almost certainly far too low. The most recent expert study of medical mistakes in American hospitals, published in July, 2004, found that such errors result in 195,000 deaths per year! 3 When you add the enormous estimated cost of $17 to $29 billion to the shocking human toll, no one can deny that medical error easily rises to the top ranks of urgent, widespread public problems facing our nation today.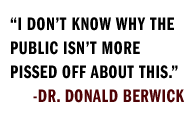 It may be hard to understand how staggering these fatality figures really are. If you imagine a fully loaded Boeing 747 crashing every day of the year with no survivors, then you can begin to understand the number of preventable deaths that occur in our healthcare system. Referring to the IOM report, UCLA's Professor of Medicine, Robert Brook, M.D. told the Associated Press, "The bottom line is we have a system that is terribly out of control. It's really a joke to worry about the occasional plane that goes down when we have tens of thousands of people who are killed in hospitals every year." Ironically, these mortality estimates would make hospitals one of America's deadliest industries.
The attention to the surprisingly large mortality figures contained in the IOM report has somewhat obscured the equally disturbing finding that each year over one million hospitalized Americans suffer serious and debilitating non-fatal injuries from preventable medical errors. Although these estimates of death and injury are huge, the IOM considered only errors committed in hospitals and not in other medical settings such as clinics, long term care facilities and doctors' offices. Accordingly, most safety experts today say that the IOM report almost certainly underestimates the extent of the problem. Because hospitals and other healthcare institutions lack of any meaningful supervision with respect to the issue and are not required to report these events to anyone, the actual number is simply unknown. (See also, Lack of Disclosure).
Exactly what is a "medical error?" It is defined as a "failure of a planned action to be completed as intended (error of execution), or the use of a wrong plan to achieve an aim (error of planning)." 4 Not all medical errors result in injury or harm to the patient. An error that does not result in injury is sometimes called a "potential adverse event." An adverse event is an injury caused by medical management rather than by the underlying disease or condition of the patient. 5 Similarly, a potential adverse event is defined as an event or situation that could have resulted in an accident, injury or illness, but did not, either by chance or through timely intervention.6
However those medical errors that do result in harm or injury are called "preventable adverse events," which are defined as an injury due to medical care (rather than an underlying disease or condition of the patient) that results from medical errors or other medical system breakdowns.
Many kinds of preventable adverse events can and do occur to patients during the course of receiving healthcare. They include, but are not limited to, transfusion errors, adverse drug events, wrong-site surgery or surgical injuries, preventable suicides, restraint-related injuries or death, hospital-acquired or other treatment-related infection, falls, burns, pressure ulcers and cases of mistaken identity.7 Healthcare error happens at the best facilities, even with the finest doctors.

Medication-related errors are among the most common type of medical error in hospitals, but luckily not all result in actual harm. Those that do result in injury are sometimes referred to as adverse drug events, which remain rampant in our hospitals. Experts have estimated that more than one million serious adverse drug events occur annually in hospitals alone. 8 A recent report in the Archives of Internal Medicine found that one in five doses of medication dispensed at 36 hospitals and nursing homes around the country was either the wrong drug or the wrong dose, or given at the wrong time or to the wrong patient. 9 One in five!
Nosocomial (Latin for hospital-acquired) infections have been recognized for over a century as a critical problem affecting the quality of healthcare and the principal source of adverse healthcare outcomes. Nosocomial infections account for 50% of the major complications that occur during hospitalization. 10 Indeed, hospital acquired infections have been called the "dirty little secret" of American hospitals. (See, Hospital Acquired Infections).
Donald Berwick, M.D. is one of our nations leading patient safety experts. He is a member of the IOM panel and is also president of the Boston-based Institute for Healthcare Improvement, a nonprofit group dedicated to bettering the quality and safety of healthcare. Referring to the findings contained in its 1999 report, Berwick stated, "I don't know why the public isn't more pissed off about this. Imagine what the reaction would be if we had a similar mortality in aviation." 11

"I'd say patients are safer today in some hospitals . . . but it's still a pretty small minority," said Dr. Berwick, "Safety is a very hard thing to accomplish and it has to be pushed way up to the top of the list, and that still hasn't happened" in most places. 12
Today, there are a lot of good people that are involved in a lot talk about reducing the occurrence of medical errors in our healthcare system, but in truth we have yet to make significant progress. The consequences of medical mistakes are so much more severe than the consequences of mistakes in most other industries: leading to death or disability rather than inconvenience on the part of consumers. This fact alone emphasizes the need for urgent, aggressive action in this area.
Unfortunately, such action has not been forthcoming from our healthcare providers and institutions. The reasons, expert observers say, include the fierce resistance by doctors and hospitals to mandatory reporting and other IOM recommendations, a lack of oversight by the federal government and the absence of an effective consumer lobby. 13
Last update on: 10/02/06
---